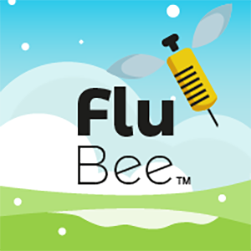 Engaging staff is the vital ingredient for any flu campaign. Convincing doubters is not easy. Flu Bee can improve uptake by engaging and encouraging staff to get vaccinated. We customise the game and website to present flu facts, bust vaccine myths and tell staff where to get vaccinated in your organisation. It grabs attention.
"Strangely addictive. A great way to learn facts about flu." Emergency Department Clinical Lead.
Players answer question correctly to build a "honeycomb path" to their hive at the top of Bee City Tower. They must dodge the Flu Bug Mafia to reach the hive, save the city and achieve Mayor Bee status.
Players can share their score on the game's leader-board and invite colleagues to play and compete via social media. This helps create a local 'buzz' through social media and word-of-mouth that raises awareness and increases uptake of the vaccine.
We developed the game in collaboration with James Paget University Hospitals NHS Foundation Trust (JPUH). They used Flu Bee to engage staff and deliver key messages. Their staff uptake jumped from 39% to 71%. They went from the bottom of the table to near the top. An impressive transformation.
"Flu Bee has definitely created a buzz and helped us enormously." James Paget University Hospitals NHS Foundation Trust
Flu Bee Game is an HTML5 web app that works on any device through a web browser without any downloading.
Last season these organisations bought Flu Bee to improve staff engagement and uptake:
Links:
JPUH Flu Bee: http://jamespaget.flubeegame.com/
Email: info@focusgames.com
References:
A systematic review of serious video games used for vaccination. Ohannessian, Robin; Yaghobian, Sarina; Verger, Pierre; Vanhems, Philippe. Vaccine; Kidlington 34.38 (Aug 31, 2016): 4478-4483.
Click below to order
Or, contact us for more information.